Availability:

NO STOCK

Product Code:

FT BS 9938 Badminton Shoes (Unisex) Yellow Black Badminton Shoes

Brand:
Description
Fleet FT BS 9938 Badminton Shoes (Unisex) Yellow Black Badminton Shoes
Special Features:
Fleet badminton court shoes are designed for great support and comfort. With its ability that allows dynamic manoeuvres around the court, it is one of the top branded badminton court shoes. Wide-shape toe-cap provides comfort and stability in the forefoot and toe area of the shoe.
Size Guide:
** Please note that its UE and UK sizing is different from Apacs brand, the most accurate way to estimate the size you're wearing is by measuring your foot length using the guide below
Euro Men Sizes
UK Men Sizes
Japanese Men Sizes
Maximum Foot Length
n CM

38

UK 5.5

24.5

24.0

cm

39

UK 6

25

24.5

cm

40

UK 6.5

25.5

25.0

cm

41

UK 7

26

25.5

cm

42

UK 7.5

26.5

26.0

cm

43

UK 8

27

26.5

cm

44

UK 8.5

27.5

27

cm

45

UK 9

28
27.5 cm
Note: To measure your foot, place a blank piece of paper larger than your foot on the floor against the wall. Tape the paper down to the floor. Stand on the paper with your heel slightly touching the wall. Then use a pen to draw a straight line touching the outermost point of your toe. Use your ruler or measuring tape to measure the length from the bottom of the paper to the top line that you drew. This number is your actual foot measurement, you can convert them to the appropriate size using the table above.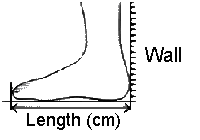 Reviews (0)