Description
The Prince Triple Threat NXGraphite Badminton Racket is designed for intermediate to advanced player and is made from high-end material to boost performance as well as durability.
Prince Triple Threat NXGraphite racquet is designed for All Rounder playing style.
Build with Prince finest combined technology:

Triple Threat Technology
Super Strike Shaft Technology
ISO Frame Technology
2 pieces Construction
It provide a super stable frame during the powerful smash.
The SSS Technology reduce 50% less frame vibration than traditional rackets.
Playing Style: Offensive 65%; Defensive 35%
Prince NXGraphite Specifications
Frame Meterial:
SM128
Shaft Material:
High Modulus Graphite
Flex:
Medium
Weight:
86g +/- 2 (3U-G5)
Length:
675mm
Recommended Tension:
25 +/- 3 lbs
Balance:
286mm +/- 5
Shaft Diameter:
ø7.0
String Pattern:
22 x 23
Technology:
SSS, Triple Threat, ISO, 2pcs Construction

Triple Threat is a unique balanced weighting system that focuses our exclusive Triple Threat material in 3 critical racquets location: at the 10 & 2 o'clock positins and at the bottom of the handle.
The end result: Perfect balance and stability in a racquet that will improve your game.

The Super Strike Shaft is made using supercritical high modulus graphite which gives up to 50% less frame vibration than traditional rackets.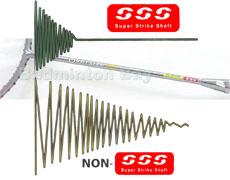 ISO Frame
The Isometric Square Head Shape equalizes the length of main and cross strings in the stringbed, enlarging the sweetspot for more consistent accuracy even on off-center hits.
Reviews (1)