Description
The Prince AV-XP Badminton Racket is designed for intermediate to advanced player and is made from high-end material to boost performance as well as durability.
Prince AV-XP racquet is designed for All Rounder playing style.
Build with Prince finest combined technology:

AVS Technology (Air Velocity System)
Triple Threat Technology
Super Strike Shaft Technology
Oversize Technology
2 pieces Construction
It provide a super stable frame and shaft during the powerful smash.
Playing Style: Offensive 70%; Defensive 30%
Prince AV-XP Specifications
Frame Meterial:
SM136
Shaft Material:
High Modulus Graphite
Flex:
High
Weight:
83g +/- 2 (4U-G5)
Length:
675mm
Recommended Tension:
25 +/- 3 lbs
Balance:
290mm +/- 5
Shaft Diameter:
ø7.0
String Pattern:
22 x 23
Technology:
AVS, Super Strike Shaft, Triple Threat, Oversize, 2pcs Construction


The pinnacle of Power and Precision,
that's Triple Threat Tungsten
Triple Threat is a unique balanced weighting system that focuses our exclusive Triple Threat material in 3 critical racquets location: at the 10 & 2 o'clock positins and at the bottom of the handle.
The end result: Perfect balance and stability in a racquet that will improve your game.

The Super Strike Shaft is made using supercritical high modulus graphite which gives up to 50% less frame vibration than traditional rackets.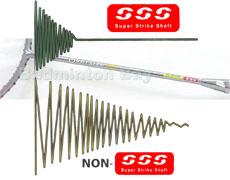 Oversize Frame - The conventional frame is 53 to 55 square inch and Oversize (OS) Racquet is 58 square inch.
This will make the Sweet Spot bigger by 20% as compare to conventional frame, therefore more Power and Control.
AVS (Air Velocity System)
AVS technology provides excellent aero dynamic which stand out 20% in speed power generated, and the new inner frame design strengthen the frame to more than 20%.
Reviews (0)