Are you ready for the world's first racket with the lightest weight? At only 58g when unstrung, the 8U in weight racket is built with state-of-the-art technology combined to fulfill the needs of players who like power, control and speed.
Why do we need light racket?
Most people think that light rackets are easy to swing, easy to maneuver and most of all, less resistance as they are built with less material. These are only the surface of the benefits of using a light racket. Underneath these general understanding, manufacturers of light rackets have been working hard to make them lighter by using their latest technology without compromising the performance of light rackets.
Besides, who wants a racket that is merely regarded as only light just for sake of hitting the record? Apacs Feather Weight series rackets beat all by having designs that provide faster re-positioning and more controlled smashes during extremely fast games. With their weight removed from handle, which now comes in one-piece without wood and only graphite is used, weightlessness and durability is attainable in these rackets. 
To keep the light rackets in good feel for the player, more weight is also distributed to the racket's head to keep it well balanced, therefore this explains the head heavy in the racket's balance point.
Many people use super light rackets to reduce further injuries involving muscles  and tendons surrounding the shoulder joint and it works! Apacs Feather weight 55 works best with PU grip as its handles are at G1 grip size.
Shop Our Latest Exclusive Lightest Racket Apacs Feather Weight X II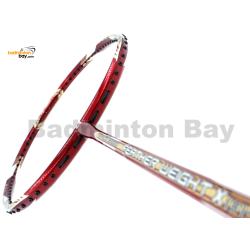 Shop Another Exclusive Lightest Racket  Apacs Feather Weight X Special.