Yonex Nanoray 800 badminton racket provides a fast and controlled swing with enhanced repulsion via the New Aero Frame.

NANORAY is designed for players who force their opponents into the back of the court with extreme speed. The thinner top of the frame sides minimize air resistance for greater head speed, while the thicker sides at the bottom of the head generate maximum repulsion through greater frame stiffness.
Yonex

NANORAY

800 (

4U-G5

) Specifications
Frame Material:

H.M. Graphite, SONIC METAL

Shaft Material:

H.M. Graphite, X-FULLERENE

Flex:

Stiff

Weight:
85g +/- 2 (

4U-G5

)
Length:

672mm

+/- 2
Max Tension:

24 lbs

Balance:
Head Light Balance (Measured

290mm

+/- 3 Slight Head Heavy)
Grommets:

76 holes

Colour

:

Black Magenta

Made in:

Japan
Special Features
Nanoray

revolutionary frame design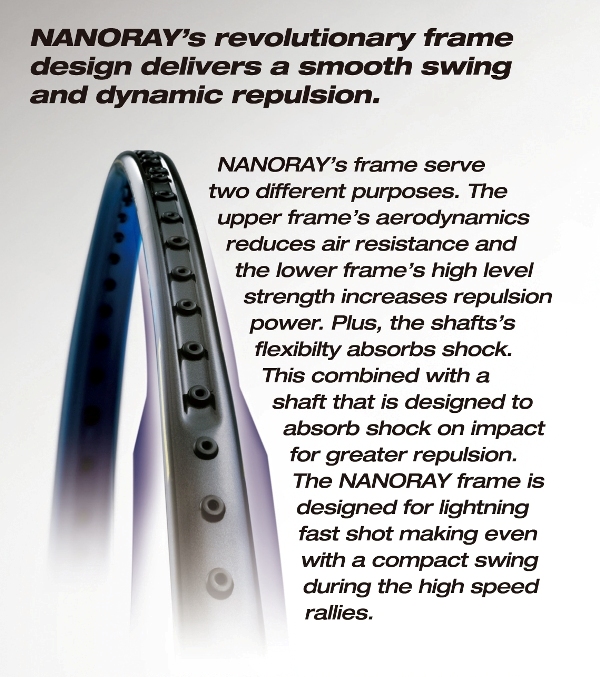 X-FULLERENE
The new generation X-Fullerene has 4 radial ribs which unite carbon atoms to form a football-like structure. The X-Fullerene is used in the resin which bonds the carbon

fibres

and creates the cross-link construction. The tenfold increase in binding force makes it possible to create 5% higher repulsion power and 15% greater stability.
Sonic Metal
SONIC METAL is an exceptionally strong, lightweight and flexible new titanium alloy which

YONEX

positions at the top of the frame. This has two advantages. Firstly, it gives you a higher repulsion power, especially in attack. Secondly, it creates a clear strong sound when the shuttlecock is hit.

This acoustic, combined with the dramatic increase in repulsion, will put your opponent under immediate pressure.
ISOMETRIC
The square-shaped ISOMETRIC frame shape is designed to keep vertical strings at a similar length, as well as the horizontal strings to produce an expanded sweet spot in all directions.
New Grommet Pattern
The single-pass grommet hole construction provides more grommet holes for a more high-performance stringing pattern.
Solid Feel Core
The built-in solid feel core cuts harmful miscellaneous vibration at impact. Solid feel core is carried in all racquets manufactured in Japan.
Aero Frame
Decreases air resistance and realizes a quicker swing.
New Built-in T-Joint
'NEW' Built-in T-Joint is manufactured from a special lightweight plastic combined with epoxy resin and foaming agent that enhances quality and performance by increasing the stability of the shuttle on the string bed and through the air.
Super Slim Long Shaft
The slimmest

racquet

ever produced by

YONEX

vastly reduces air resistance

whilst

providing maximum feel.
Control Support Cap
The control support cap provides an 88% wider flat surface compared with an ordinary

racquet

for easier gripping, fast follow-through and the sharpest maneuverability.
Racket Specifications
Frame
H.M. Graphite, SONIC METAL
Shaft
H.M. Graphite, X-FULLERENE
Flex
Stiff
Weight
85g +/- 2 (4U-G5)
Max Tension
24 lbs
Length
672mm +/- 2
Balance Point
Head Light Balance (Measured 290mm +/- 3 Slight Head Heavy)
Grommets
76
Shaft Diameter
6.9mm
Color
Black Magenta
Special Features
Nanoray revolutionary frame design; X-FULLERENE; Sonic Metal; ISOMETRIC; New Grommet Pattern; Solid Feel Core; Aero Frame; New Built-in T-Joint; Super Slim Long Shaft; Control Support Cap
What People Are Saying...

i'm totally satisfied with the product and it arrived even a day earlier than announced. I've gotta say that you where faster shipping something from Malaysia to Italy than some stores shipping products from Germany to Italy.
So to say: good product, great shop, no problems -
...READ MORE...»

S.K.
, Italy