Badminton Training Racket – BIC Training PRO

Most competitive badminton players use either squash racket or badminton racket in their training to strengthen their hand. Majority of them especially state players use squash racket in their training.

The types of trainings they normally do using squash racket are like shadow or multiple shuttle drills. But squash racket is still not a badminton racket, hence Badminton-Information.com have decided to invent a new equipment in order to replace the squash racket.

This new invention is the Badmiton Training Racket – BIC Training PRO. The Training PRO is designed as a badminton racket but also as heavy as a squash racket. Most players don't know about the existence of this training racket so I am going to talk more about the BIC Training PRO.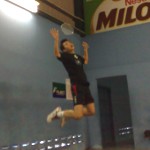 These training rackets has various benefits such as strengthening wrist works and also improving player's shots consistency and accuracy.
Although it is heavy, players are recommended to use this training racket because the size of the racket head and grip are the same as an ordinary badminton racket.

You can use this training racket in various type of training. One of the most common drills that people used to do is the shadow drills.
Shadow drills are meant to improve the stability of footwork but with the Training PRO, it can also be used to improve your wristwork by swinging the rackets during the shadow drills.

Other than that, you can also use it during drills that involve shuttles such as multiple shadow drills, skills training and other shuttle drills. By training the accuracy of the shot using the Training PRO, players will find it much easier to control their shots power and placement when they are using the ordinary badminton rackets.

Using the Training PRO in normal match play is also recommendable. By getting used to the handicapped heavy racket, you will indirectly train your wristwork and also your shot will eventually become stronger. Players will find it a lot easier when they use their normal badminton racket after they are used to the Training PRO.

In conclusion, we recommend all badminton players to purchase the BIC Training PRO because you will surely find improvement in your game by using it and also the price are very reasonable.

Till Next Time,

Andrew Chang (Head Coach of BIA) & Hafiz Hashim (2003 All England Champion)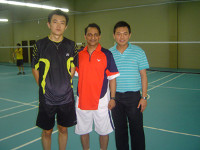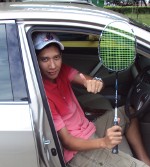 Customers Who Bought Also Bought
What People Are Saying...
Badminton Racket ...

I was trying to find a racket suitable to my skills and type of playing and I found it through badminton bay online. I ordered the Apacs Featherweigfht XS and I really like it. Its very light and the design is gorgeous. The racket also comes with string that I have chosen as well as the handle wr
...READ MORE...»

Francis Bayotas
, Toronto