Excellent service

Great racket, excellent service once again from badminton bay and speedy delivery to the UK.
RATING

-

Bilal Hussain

, UK

|

09-18-2022
2 pieces deal

Great packing and shipment updates.
RATING

-

Jian Ye

, US

|

09-18-2022
Great service

They even gave me a cute pen.
RATING

-

Anonymous

,

|

08-28-2022
Rackets and accessories

I would like to thank about great service and great prices on rackets and accessories.
RATING

-

Vijay Kumar

, Chino Hills

|

07-31-2022
Purchase experience from badminton bay

Dear Seller, I had been purchased four times from BB and overall experience is great except one minor issue encountered with incorrect tension on new purchased rackets on one of earlier purchase. I would love to see if BB can carry shuttlecock for volumne sales overseas. As our club is constantly looking for good source of volume shuttlecock purchase such as RSL classic, aero and li-ning. Thanks for the quality racket and speedy service, looking forward for more great service offer in near future.
RATING

-

Patrick Leung

, Richmond hill

|

07-10-2022
Feedback

Badminton racquet was good, exactly as described. Bag was a suprise actually, smaller than what i thought it was, could be nice to put a racquet next to the bag for comparison, but the bag was good otherwise.
RATING

-

Azri

, Australia

|

07-09-2022
Abroz Venom II

Thank you for delivering what we asked for and the extra socks and grips for the racquet.
RATING

-

Gaurav Tandoan

, NZ

|

07-05-2022
Happy with the purchase

Great customer service, I have ordered 4 rackets, received those well packed and strung as instructed. I really appreciate and recommend BadmintonBay.
RATING

-

S Chandran

, NC

|

06-15-2022
Great service and followup - and of course rackets too!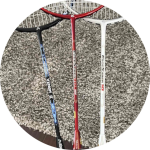 ​
I stumbled across badmintonbay.com by chance as I was looking to get another APACS EdgeSabre 10. Can't be happier I found THE place for rackets - period. Service from the start where I was still selecting the rackets till I have received them was top notch. For me, customer services MATTERS and I will definitely come back to badmintonbay. Highly recommended!
RATING

-

KELVIN L

, CALIFORNIA, USA

|

06-04-2022
good service

very good customer service. highly recommended
RATING

-

aries

,

|

06-02-2022