Enjoy purchasing from Badminton Bay

I enjoy purchasing from Badminton Bay. Delivery is quite fast coming from Malaysia to Vancouver,BC. The Abroz racquets are great and from the same price point of Yonex racquets, Abroz racquets are better. As I have told Catherine Kan, Badminton Bay just need to get a representative to Canada. I think once players are made aware of your products, more players will give your products a try. Keep up the good work.
RATING

-

Stan

, Canada

|

05-28-2023
Racket

Real good experience
RATING

-

George

, Leicester

|

05-28-2023

Je suis très content de mes raquettes et toujours très heureux de faire mes achats chez Badminton Bay. Le service et la communication sint si agréables que je me sens être avec mes meilleures amis. Merci
(I am very happy with my racquets and always very happy to shop at Badminton Bay. The service and the communication are so pleasant that I feel like I am with my best friends. THANKS)
RATING

-

Abdulhadi Qaderi

, Canada

|

05-16-2023
Amazing rackets at awesome prices and shipping!

I bought 3 Apacs Feather weight XS from BadmintonBay and I not only loved them, but I got 3 for the price of 2 with free, nice strings and grips. I needed them by Saturday and ordered them Wednesday (I'm based in the US) with regular shipping and it got here by Friday. They're quick, responsive, and light. Badmintonbay was very good about everything. Loving the way these play, thanks BadmintonBay!
RATING

-

Ary V.

, Chicago

|

05-12-2023
Best customer service

Bought a couple of Abroz nano 9900 rackets and shipment was pretty fast. I wanted to change my order as soon as I placed it and they were able to help me out and changed it right away. I got my rackets within a few days and was very happy. They even included a hand towel and a cute badminton pen. Thank you BadmintonBay.
RATING

-

Sandee

, Covina

|

05-08-2023
Look no further, this is THE badminton shop!

A few years back I ordered 2 rackets from badmintonbay. After one broke (my bad) I deceided to buy 2 more of the same rackets so I always have a backup. Just like the first time, they arrived within 4 days (to Belgium). After playing with one of them I noticed a difference in balance, it felt a lot more head heavy then I was used to. Strange! I ordered the same rackets just to avoid this! I send them an email and got a fast response. Long story short: the two new rackets were fine but it was my old racket that was out of spec. It was a lot more head light than it was supposed to. Now they check all the rackets before selling but a few years ago that was not the case. Solution: they took the effort to search 2 new rackets for my with the exact same specs (weight and balance point) as my old rackets and send it to me for free. I could also keep the 2 other rackets. Absolute legends, Highly recommend!
RATING

-

Jochen

, Zonhoven Belgium

|

04-28-2023
Badminton Bay Rackets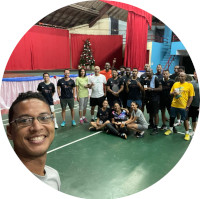 We love your affordable and high quality products. I have been buying the Apacs brand and we are very satisfied with the performance. Thank you and looking forward to doing business with you in the future
RATING

-

Everton Francis

, Kingston, Jamaica

|

04-05-2023
Abroz Hammerhead

Have played for a long time with branded rackets. Tried this racket on reviews in UK. Astoundingly good, Matches anything Ive used. Talk about value for money!
RATING

-

Kevin

, Queensland

|

03-08-2023
First time buyer- super impressed

Our club favorite retailer, great range and deals especially for group purchases. Super fast delivery to Canada
RATING

-

Vinu George

, Toronto

|

03-03-2023
Quality customer service

Amazing customer service, they were able to change my string tension settings when i emailed them about it and recieved the racquets in less than two weeks with the desired string tension. I would buy from them again in the future.
RATING

-

Kent

, Lake Successs

|

02-22-2023