Great Customer Support

I bought Apacs Virtuoso 80 Badminton Racket (6U) from badminton bay and enjoyed great customer support from placing order to receiving it.
RATING

-

Sharath Gajendranath Singh

, UK

|

03-20-2019
Nanotech Z speed badminton racket

Hi Really great racket and really happy with it. My only disappointment was the strings broke during my first game but had it re-strung with zymax 66 power at 25lbs and finding this to be a much better choice. Thank you for a great racket Regards
RATING

-

Gopesh Chanda

, Birmingham

|

03-18-2019
Abroz Nano 9900 Power Badminton Racket (5U)

This racket is amazing!!!! Have ZFII, 88D, 88S, Duora etc from YONEX, Brave Sword, Falcon Thruster etc from Victor and this very reasonable priced racket can be at par or better than those. Thanks Badminton Bay for speedy delivery, friendy replies for all queries. A must try racket.
RATING

-

Charles

, Singapore

|

03-18-2019
Apacs SP-602 shoes

Excellent service. Excellent shoes. Very important for me, that this is wide, comfort shoes. Thank you.
RATING

-

Sergey

, Moscow

|

03-14-2019
Excellent product! Fast delivery, top-notch communication

Excellent product! Fast delivery, top-notch communication and nicely packaged. Played with the new racket and it's a well balanced racket. String tension i.e. 25 I requested feels slightly stiff when playing. But that's not a big deal fo me. I recommend badmintonbay for anyone who wants to buy top quality badminton gear for reasonably good price.
RATING

-

Kusal Fernando

, AU

|

03-06-2019
Will definitely continue to be a customer!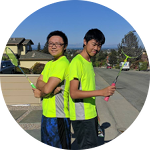 I've purchased several items from Badmintonbay.com now and I've been impressed by the quality of products as well as speed of shipping. I live in the United States so I know shipping can be a challenge at times, but I've always been pleasantly surprised at how quickly my purchases arrive.
Will definitely continue to be a customer!
RATING

-

Tom Zhou

, US

|

02-13-2019
Great website

I got recommended this website. I decided to buy the Apacs Edgesaber 10. The racket came in 14 days, or 11 business days. I am really happy about how the racket came in perfect new condition. They also strung the strings purple, which I really like. The string tension is correct and to my liking, and the sound of the racket hitting the birdie is incredible. This racket is more for control, accuracy, and speed, not much for smashes. I am not saying the smashes are weak, but I personally feel like the smash is the weakest factor of the racket compared to the other things. Strung at 27 lbs. Yonex BG65. One downside, the free PU hyper grip that came with the racket, mine was orange and I really dislike the color. The grippiness is amazing but I just don't like the color. Black would've been perfect. I also bought the Apacs Nano 9900 at the time of this review. I am hoping that it is a really good racket and that it lives up to it's reviews. I strung this racket at 25 lbs. Yonex BG65.
RATING

-

Eric L

, San Lorenzo

|

02-06-2019
Excellent customer service

I am extremely satisfied with the purchase. Love the combo racket deal as well as order status updates (rackets sent for stringing, rackets shipped).
RATING

-

Frank Lin

, Frederick, Maryland

|

02-04-2019
Satisfied with customer service and overall purchase

I bought the Apacs Ziggler II racket online. Before buying the racket, I chat with their customer service on Facebook messenger regarding which models would better suited for my style. Their recommendation s were helpful in deciding the model. I received the racket within 2 weeks after I placed the order. The Ziggler II is a very nice racket, it seems to have improved my clears and smashes and I'm happy with the purchase so far. Overall, it was a nice buying experience from Badminton bay.
RATING

-

Aditi

,

|

02-04-2019
Review

I like the badminton racquet.
RATING

-

Muthukrishnan

, Malvern, PA, USA

|

01-29-2019