I bought four badminton rackets from here in New York, USA. This is my first time shopping on this website. I received the items today. I am very satisfied and 100% satisfied! Will continue to buy in the future!
RATING

-

Anonymous

, US

|

02-22-2021
Excellent customer service

Excellent customer service, i got my Racket on-time!. In my experience they deserved better than 5 stars. About the Racket tension they also texted me by WhatsApp so that's part was amazing!. Respect and thanks to their all team members.
RATING

-

Mohammed Dulal Miah

, US

|

02-14-2021
Fusion Musketeers : 1x Apacs Nano Fusion Speed XR, 1x Apacs Nano

I have been a player for more than 6 years ... I really liked the purchased goods. I use 'Nano Fusion 722 Speed'. 4 years, and now the updated 'Apacs Nano Fusion Speed XR' Rackets are lighter, especially suitable for fast play, game play. Securely packed for shipment. Arrived quickly. Value for money is very good. Thank you.!!
RATING

-

Egidijus.L

, Kaunas

|

02-14-2021

The items I got are nice and packing is v good. Shipping is fast as these days for shipping it takes long times. I really like and appreciate ur work much Thanks
RATING

-

shiyam

, Adducity

|

02-07-2021
Good online services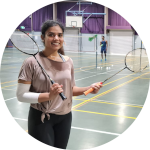 First of all thank you so much for providing such good online services with a compatible price.
I purchase my racquets from badmintonbay for some years and always happy with the price and fast delivery. Now some of our club members also ask me to get the racquet from your company due to the the same reason.
We run a badminton club here in Brisbane Australia and with more than 300 members. We have Sunday, Monday and Thursday sessions.
Due to the above reason whenever we need racquets or whatever badminton accessories I will suggest the members to log on your website if they can find any bargains.
We wish we will order from your company soon. Attached please find one of our members hold the 2 racquets that I bought from you recently with the happy face.
Bill
RATING

-

Bill

, Australia

|

02-03-2021
My Recent Order

I must say I was reluctant to play badminton with other than Yonex rackets. But when I used the Apacs rackets ( Nano Fusion 722 and Featherweight X Special ) which I ordered from badmintonbay I am really happy with the rackets and they are as good as Yonex rackets if not better. The shipment, delivery and packing were all excellent rating. All the goods I received were in top condition. This was my second order from badmintonbay and I will continue to do so. Special thanks to Mike for his prompt responses and excellent customer services.
RATING

-

Majeed Alnajjar

, MANAMA

|

02-01-2021
good store

this is my 2nd time to order and it did met my expectations. thanks.
RATING

-

dawn

, lae

|

01-10-2021
Great quality

Great quality of racket and customer service worth every dime , the stringing services is so impeccable even the stringer made good choice of color for the strings and kept all rackets uniform , this is my first purchase in badminton bay and now on it's going to be my one shop stop for rackets.
RATING

-

prakash

, Netherlands

|

01-06-2021
Badminton racket

It's a great product. I'm really enjoying it. Thanks.
RATING

-

Mukti Rai

, Cleveland

|

01-04-2021
Badminton shoes

I bought a pair of badminton shoes,socks and grips. All are as expected and good quality
RATING

-

Martin

, Brighton

|

12-28-2020