Good online services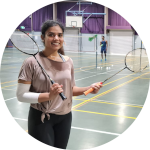 First of all thank you so much for providing such good online services with a compatible price.
I purchase my racquets from badmintonbay for some years and always happy with the price and fast delivery. Now some of our club members also ask me to get the racquet from your company due to the the same reason.
We run a badminton club here in Brisbane Australia and with more than 300 members. We have Sunday, Monday and Thursday sessions.
Due to the above reason whenever we need racquets or whatever badminton accessories I will suggest the members to log on your website if they can find any bargains.
We wish we will order from your company soon. Attached please find one of our members hold the 2 racquets that I bought from you recently with the happy face.
Bill
RATING

-

Bill

, Australia

|

02-03-2021