Color : White, Blue & Red
Volleyball

FIVB Approved

Polyurethane cover

Machine stitched

Outdoor use

Official size and weight
You can expect exceptional performance from Molten's FIVB Approved V5B5000 beach volleyball. The polyurethane cover construction offers superior grip and durability while absorbing less water - ensuring a more consistent performance, regardless of the conditions.

The V5B5000's cover construction not only features improved grip and durability, but also retains 40 percent less water than the BV-5000 for consistent performance in wet weather conditions, Molten said. The ball has a soft feel on contact and suits the high number of repetitions that athletes take in beach volleyball.

This volleyball is the replacement of Molten's signature blue and yellow BV-5000 model as Molten's FIVB-approved beach volleyball.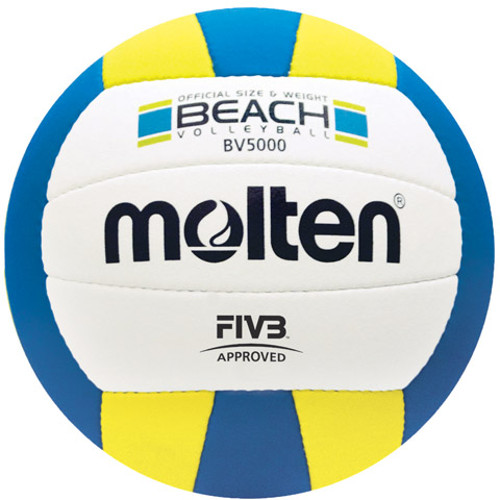 Above : Old Model BV-5000 Beach Volleyball
V5B5000 Beach Volleyball will be used as the official ball in all North, Central America and Caribbean Volleyball Confederation (NORCECA) beach volleyball events.
What People Are Saying...
Delivery time
This is an amazing company;i never thought that my racket could be delivered so quickly;usuall y it takes months to reach Madagascar but this time it was a week;amazing;t hank you very much; I won't to know another company in the future;this is my badminton partner."
mon claire
, antananarivo