Brand:
Prince
Product Code:
Oversize Black Pearl 6.5 Lite
Availability:
NO STOCK
The Prince Oversize Black Pearl 6.5 Lite Badminton Racket is designed for intermediate to advanced player and is made from high-end material to boost performance as well as durability.
Prince Oversize Black Pearl 6.5 Lite racquet is designed for All Rounder playing style.
Build with Prince finest combined technology:

Triple Threat Technology
Micro Shaft 6.5mm Technology
Oversize Technology
MOPH BEAM Technology
M50 Tonne Graphite
The Oval Head design and Wide Body Aero at the top combine with Box at the bottom frame provide a super stable frame that produces powerful smash.
Prince Oversize Black Pearl 6.5 Lite Specifications
Frame Material:
High Modulus Graphite + MOPH Beam Frame
Shaft Material:
High Modulus Graphite (50 Tonne)
Flex:
Flexible
Weight:
83g +/- 2 (4U-G5)
Length:
675mm
Max Tension:
28 lbs
Balance:
293mm +/- 5
Grommet:
74
Triple Threat


The pinnacle of Power and Precision,
that's Triple Threat Tungsten

Triple Threat is a unique balanced weighting system that focuses our exclusive Triple Threat material in 3 critical racquets location: at the 10 & 2 o'clock positins and at the bottom of the handle.

The end result: Perfect balance and stability in a racquet that will improve your game.

Micro Shaft 6.5mm

Cutting edge nano carbon technology is used to produce an ultra-thin, ultra-tough, aerodynamic shaft, created for a faster, stronger and more intense shot.

Oversize


Oversize Frame - The conventional frame is 53 to 55 square inch and Oversize (OS) Racquet is 58 square inch.

This will make the Sweet Spot bigger by 20% as compare to conventional frame, therefore more Power and Control.

MOPH BEAM Frame
MOPH BEAM Technology transform the racquet frame from square beam at the T-Joint to wide body aerodynamic to the tips of the frame. Enabling better torque at the T-Joint and making the racquet more controllable. The wide body and aerodynamic frame will add on more power to your swing.
Oval head frame
This design gives the racket a unique and solid feeling. For players who seek a solid feel from the strings at impact.
Racket Specifications
Frame
Hi Modulus Graphite + MOPH BEAM
Shaft
Hi Modulus Graphite 50 tonne
Flex
Flexible
Weight
83g +/- 2
Max Tension
28lbs
Length
675mm
Balance Point
293mm +/- 5
Grommets
74
Shaft Diameter
6.5mm
Color
Pearl White
Special Features
Triple Threat; M50 Tonne Graphit; Oversize; Oval head frame; MOPH BEAM Frame; Micro Shaft 6.5mm;
What People Are Saying...
Apacs Badminton S...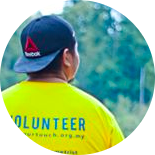 I purchase APACS Shoes from Badminton Bay. The service and staff there really good and they know what there were doing. For those who were lookin
...READ MORE...»

Farhan Slyrex
,