Brand:
Abroz
Product Code:
Team ES Z Slayer + Falcon X
Availability:
In Stock
This is a package specially for a team of 4. It includes 4 badminton rackets + 2 tubes of speed 77 shuttlecocks.
Thousands of these rackets have been sold worldwide.
Apacs Blend Duo 10X badminton racket is designed with a blend of high speed and stable frame that gives you more satisfaction during smashing and easier back-hand clear.

Blend Duo 10x comes in to take over our Blend Duo 88 model which is one of the original bestselling blend frame rackets. Blend Duo 10x is more exclusive yet similar in performance, it is the new racket that will transform your game.
Created since 2013, this design creates the perfect blend of speed and power, enabling you to enjoy the best of both world
Light in body and heavy in head makes these 2 benefits compliment each other to produce heavy smashes without tremendous effort. It also enables you to move the racket like a sword and to deliver a very fast and sharp execution.
The racket is a medium flex racket that will deliver more power for hard hitter, as it will transfer power more effectively from the arm to the shuttle.
The Blend Duo 10X is a fast racket and is developed to suit power based players who want more control or those seeking to improve power generation.

With its light body and head, enable you to move the racket like a sword and to deliver a very clean and sharp execution.

This racket is very well made and awesome to play with, and with the price over performance, it gives you the best value for money.
Apacs Blend Duo 10X Specifications
Frame Material:

Hi Modulus Graphite + Blend Technology + IPN

Shaft Material:

Hi Modulus Graphite

Flex:

Medium (9.0)

Weight:

79g +/- 2 (6U-G2)

Length:

672mm +/- 2

Max Tension:

32lbs

Balance:

300mm +/- 3 (Head Heavy)

Grommets:

76 holes

Colour:

Blue Red White
Special Features
Isometric head frame

Equalizes the length of main and cross strings in the stringbed, enlarging the sweet-spot for more consistent accuracy even on off-center hits.

Blend Technology Frame

This technology creates the blend between the speed and power of the frame that enables the player to enjoy the best of both world. Making your shots agile, fast and powerful.

Reinforced Structure Frame

The new material is adopted in the frame in order to make the frame Ultra high Strength & Stiffness. As a result it can handle string tension of up to 38lbs.

Light Weight

At 79g (6U) this light weight racket will enable you to move quickly and deliver fast swing to surprise your opponent.

76 Grommets System

This single-pass grommet holes construction provides more grommet holes, creating a high-performance stringing pattern that puts 7% more durability.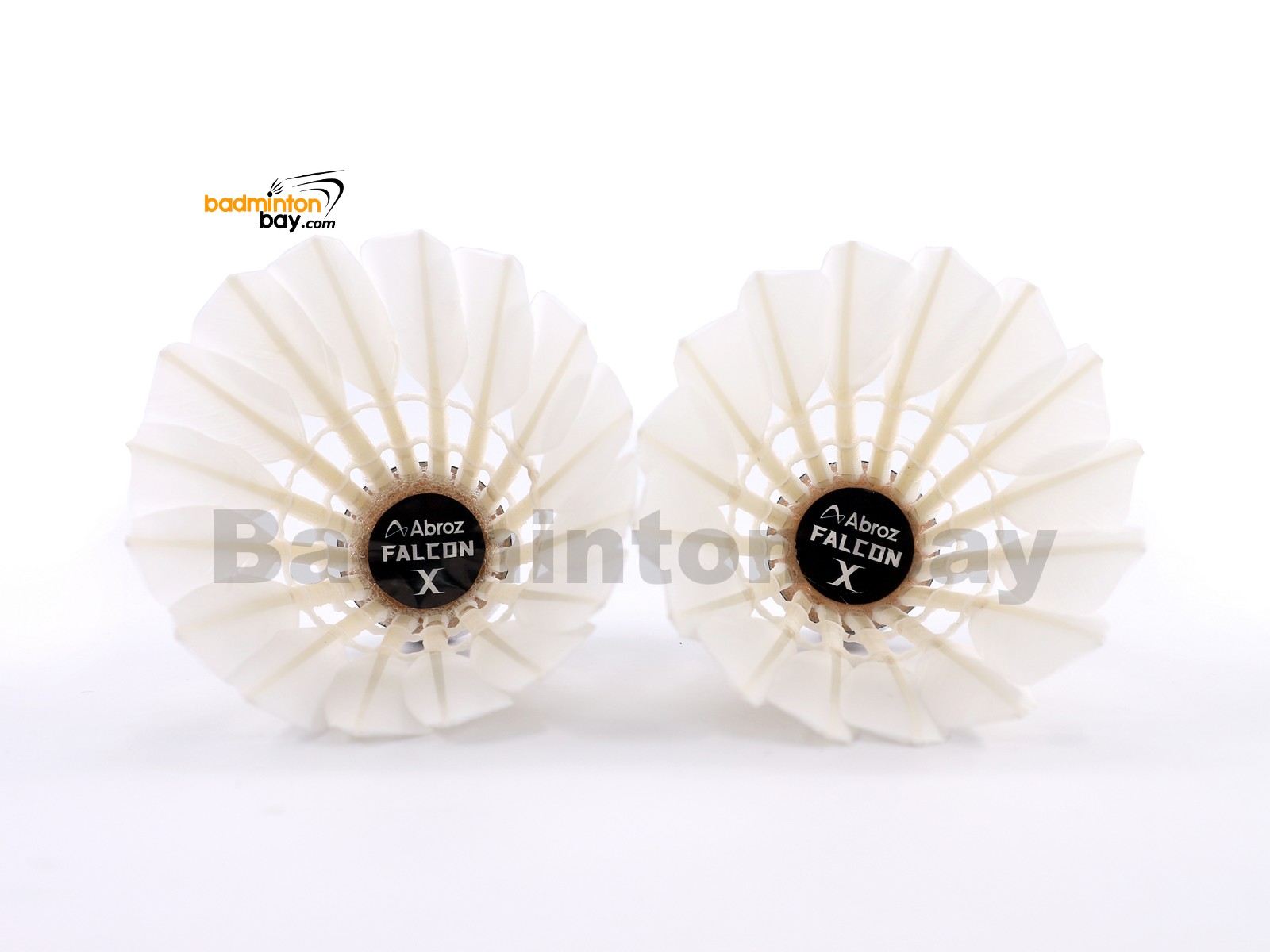 DURABLE. PLAYABLE. STABLE. AFFORABLE.
Abroz is known for quality, value and most importantly price. Falcon X is Abroz's first ever shuttlecock model designed for social badminton players. It is also great for training purposes, as Falcon X shuttle can last much longer than other shuttlecock.
Abroz Falcon X badminton feather shuttlecocks are made from superior duck feathers. It is high in quality, consistent, long-lasting and playable.
Falcon X is also accurate and performs like expensive shuttlecocks.
Each one of them is skillfully constructed with quality assured to give the best flight in a shuttlecock.
Choosing Falcon X shuttlecocks with good quality and affordable price is your badminton team's best choice.
Features:-
Material : Duck feather

Head Material: 2 Layer Cork

Quantity: 12 in 1 tube

Falcon X Speed 77 will be provided

Suitable: Training to Intermediate level

Advantages: Super Durable, Value for Money, Playability, Stability

Developed in Malaysia

Rating:-

Durability: A

Stability: A

Flight: A-

Feeling: A-

Appearance: B
Racket Specifications
Frame
Hi Modulus Graphite + Whip-Slim Frame + Compact Frame
Shaft
Hi Modulus Graphite + CNTs Carbon Nanotube
Flex
Medium
Weight
85 +/- 1g (4U-G2)
Max Tension
33 lbs
Length
675mm
Balance Point
285mm +/- 3
Special Features
Isomectric head frame; 76 Grommets system; CNTs Carbon Nanotube; Whip-Slim Frame; Compact Frame
Customers Who Bought Also Bought
What People Are Saying...
1st Purchase

Wow! Amazing business. Great choice of products, brilliant prices, lightning delivery and responded accurately and promptly to my pre purchase queries. Ticked every box and the rest. Will use again and have already recommended."

Craig
, Falkirk, UK