Yonex ASTROX 88S racket is built using with Rotational Generator System. The counter balanced head adapts to each shot, helping you to control the drive and attack the opposition with increased acceleration, steeper angle and power on the smash.
This racket helps you to lead the attack with increased power and control.
Smash power up 7.1% (The difference between the initial speed and the final speed is minimized in order to be launched strongly)

Smash angle is 2.3° steeper

*Tested by Yonex (Measurements by swing robot)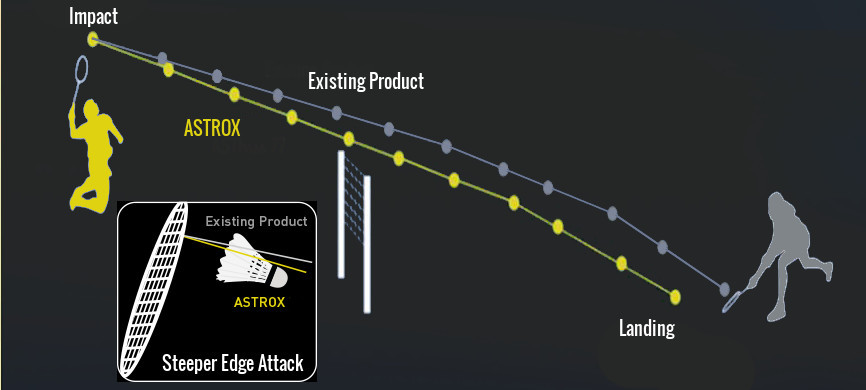 Yonex Astrox 88S Specifications
Frame Material

H.M. GRAPHITE + NANOMETRIC + Tungsten

Shaft Material

H.M. GRAPHITE + Namd

Flex

Stiff

Weight

83g +/- 2 (4U-G5)

Length

670mm +/- 2

Max Tension

28 lbs

Balance Point

295mm +/- 3 (Head Heavy)

Grommets

76

Color

Emerald Green

Made in

Japan
Special Features
New Frame Design & Racket Length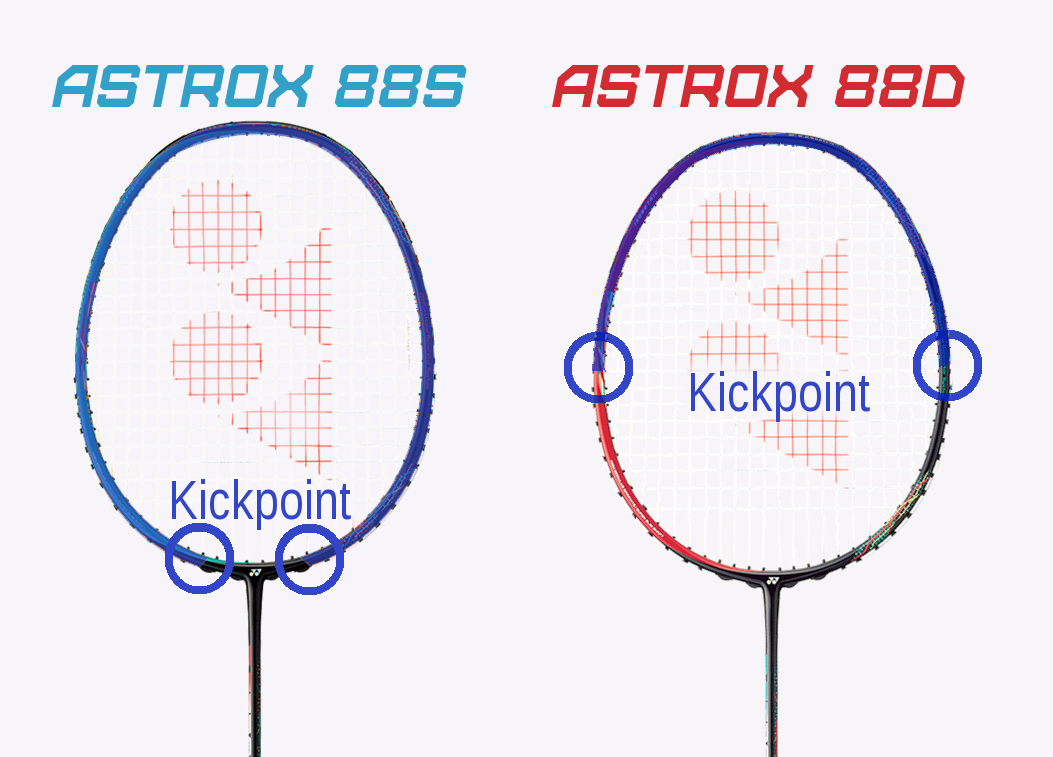 Making the whole frame flexible allows the"ASTROX 88 S" to hold the shuttlecock for accurate control, while the"ASTROX 88 D" has more flex in the upper part of the frame transmitting maximum power to the shuttlecock to break through the opponents. In addition the overall length of the"88 S" is only 5mm longer, which enhances both accuracy and power while the"88 D" is 10 mm longer to provide powerful attacks.
Nanometric
NANOMETRIC* improves the bonding strength between the carbon fibres enabling us to take racquet shaft construction to another level. By reducing the amount of carbon in the shaft to make it 60%* thinner than a conventional racquet whilst retaining stiffness, YONEX has created a revolutionary lightweight racquet with lightening head speed and control.
*NANOMETRIC is the new material which applies the NANOALLOYTM Technology of Toray Industries, Inc.
Rotational Generator System
Weight Distribution - By applying the counterbalance theory, weight is distributed throughout the grip end, frame top and the joint for maximum control. The transition to the next shot can be performed smoothly with a rapid succession.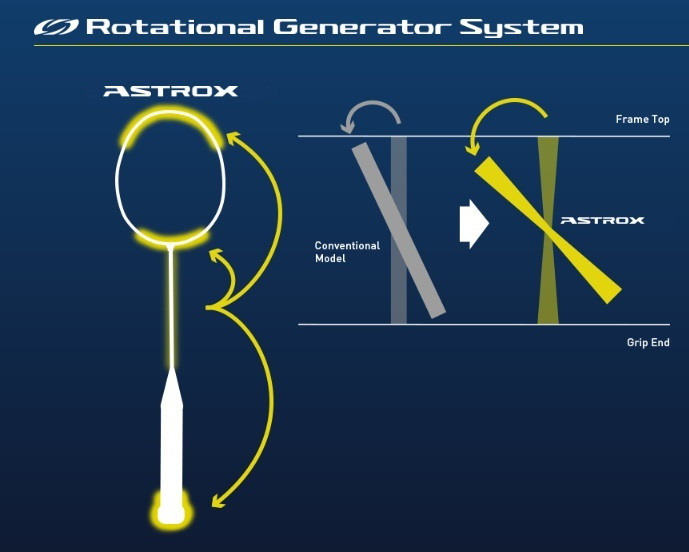 Namd
ASTROX 88 uses a world's-first, new dimension graphite material, Namd, which greatly improves the adhesion of the graphite fibers and resin by attaching nanomaterial directly to the graphite fiber.
In high performance racquets, it is common to combine nanomaterials with resin that connects graphite fibers, but in Namd, nanomaterials are directly adhered to the graphite fibers and resin is greatly increased. This major improvement produces a shaft that flexes and stores energy, delivering explosive force on impact with the shuttle.
New Grommet Pattern
The single-pass grommet hole construction provides more grommet holes for a more high-performance stringing pattern.
Isometric
The square-shaped ISOMETRIC frame shape is designed to keep vertical strings at a similar length, as well as the horizontal strings to produce an expanded sweet spot in all directions.
New Build-in T-Joint
'NEW' Built-in T-Joint is manufactured from a special lightweight plastic combined with epoxy resin and foaming agent that enhances quality and performance by increasing the stability of the shuttle on the string bed and through the air.
Energy Boost Cap
The new shape allows the shaft to flex, which ensures the maximum effect of "Namd(more flex and faster kick-back graphite material)" and stabilizes the racquet face by preventing the shaft twisting, increasing control
Solid Feel Core
The built-in solid feel core cuts harmful miscellaneous vibration at impact. Solid feel core is carried in all racquets manufactured in Japan.
Aero + Box Frame
Combines solid hitting feel and quick swing.
Super Slim Long Shaft
The slimmest racquet ever produced by YONEX vastly reduces air resistance whilst providing maximum feel.
Racket Specifications
Frame
H.M. GRAPHITE + NANOMETRIC + Tungsten
Shaft
H.M. GRAPHITE + Namd
Flex
Stiff
Weight
83g +/- 2 (4U-G5)
Max Tension
28 lbs
Length
670mm +/- 2
Balance Point
295mm +/- 3 (Head Heavy)
Grommets
76
Shaft Diameter
7.0mm
Color
Emerald Green
Special Features
New Frame Design & Racket Length; Nanometric; Rotational Generator System; Namd; New Grommet Pattern; Isometric; New Build-in T-Joint; Energy Boost Cap; Aero + Box Frame; Solid Feel Core; Super Slim Long Shaft
What People Are Saying...
Amazing rackets a...

I bought 3 Apacs Feather weight XS from BadmintonBay and I not only loved them, but I got 3 for the price of 2 with free, nice strings and grips. I needed them by Saturday and ordered them Wednesday (I'm based in the US) with regular shipping and it got here by Friday. They're quick, responsive,
...READ MORE...»

Ary V.
, Chicago