Yonex NanoRay 900 badminton racket is a totally new frame that suppresses the angle of the shuttlecock for a completely new angle to your smash shots.
NANORAY is designed for players who force their opponents into the back of the court with extreme speed. The thinner top of the frame sides minimize air resistance for greater head speed, while the thicker sides at the bottom of the head generate maximum repulsion through greater frame stiffness.
Yonex NANORAY 900 SP Specifications
Frame Material:

H.T. Graphite, H.M. Graphite, NANOMETRIC, SUPER HMG

Shaft Material:

H.M. Graphite, X-FULLERENE, Ultra PEF

Flex:

Stiff

Weight:

88g +/- 2 (3U-G5)

Length:

673mm

Max Tension:

24 lbs

Balance:

Head Light Balance

Grommets:

76 holes

Colour:

Navy Blue
*Made in Japan
Special Features
Isometric head frame
Equalizes the length of main and cross strings in the stringbed, enlarging the sweet-spot for more consistent accuracy even on off-center hits.
New Evolutionary Frame Design - TOP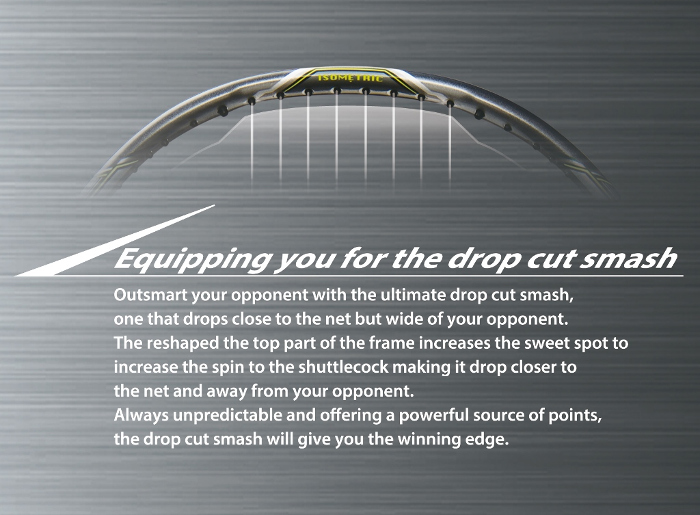 New Evolutionary Frame Design - SIDE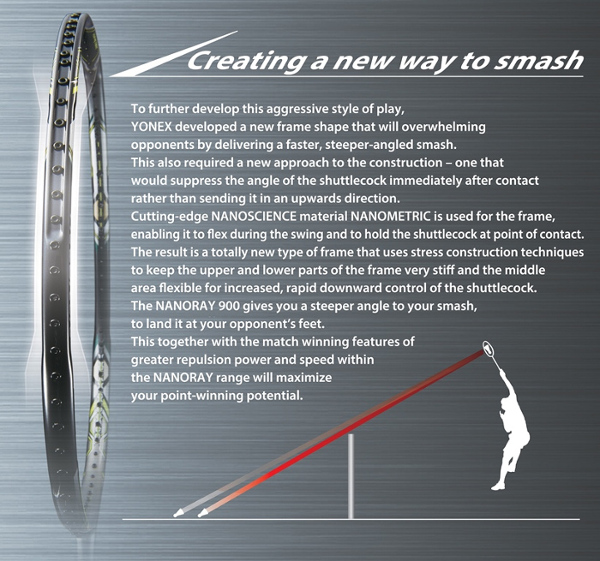 New Grommet Pattern
The single-pass grommet hole construction provides more grommet holes for a more high-performance stringing pattern.
NANOMETRIC
NANOMETRICNANOMETRIC* improves the bonding strength between the carbon fibres enabling us to take racquet shaft construction to another level. By reducing the amount of carbon in the shaft to make it 60%* thinner than a conventional racquet whilst retaining stiffness, YONEX has created a revolutionary lightweight racquet with lightening head speed and control.
*NANOMETRIC is the new material which applies the NANOALLOYTM Technology of Toray Industries, Inc.
Ultra PEF
The shaft is constructed using 'Ultra PEF' – ultra poly ethylene fibre – which is light enough to float on water yet able to withstand immense forces. these characteristics allow for maximum shock absorption.
X-FULLERENE
The new generation X-Fullerene has 4 radial ribs which unite carbon atoms to form a football-like structure. The X-Fullerene is used in the resin which bonds the carbon fibres and creates the cross-link construction. The tenfold increase in binding force makes it possible to create 5% higher repulsion power and 15% greater stability.
Solid Feel Core
The built-in solid feel core cuts harmful miscellaneous vibration at impact. Solid feel core is carried in all racquets manufactured in Japan.
Aero Frame
Decreases air

resistance and realizes a quicker swing.
New Built-in TJoint
'NEW' Built-in T-Joint is manufactured from a special lightweight plastic combined with epoxy resin and foaming agent that enhances quality and performance by increasing the stability of the shuttle on the string bed and through the air.
Super Slim Long Shaft
The slimmest racquet ever produced by YONEX vastly reduces air resistance whilst providing maximum feel.
Control Support Cap
The control support cap provides an 88% wider flat surface compared with an ordinary racquet for easier gripping, fast follow-through and the sharpest maneuverability.
T-ANCHOR
A new composite material T-ANCHOR used in the T-joint helps reduce excess torque when hitting an off centre shot.
Racket Specifications
Frame
H.T. Graphite, H.M. Graphite, NANOMETRIC, SUPER HMG
Shaft
H.M. Graphite, X-FULLERENE, Ultra PEF
Flex
Stiff
Weight
88g +/- 2 (3U-G5)
Max Tension
24 lbs
Length
673mm
Balance Point
Head Light Balance
Grommets
76
Shaft Diameter
7.1mm
Color
Navy Blue
Special Features
New Evolutionary Frame Design; NANOMETRIC; Ultra PEF; X-FULLERENE; Isometric head frame; Super Slim Long Shaft; Solid Feel Core; New Built-in T-Joint; Aero-Frame Control Support Cap; T-ANCHOR; New Grommet Pattern;
Customers Who Bought Also Bought
What People Are Saying...
2 pairs of court ...

I purchased 2 pair of court shoes for squash. I train and play competition 3 times per week and I am fairly mobile / quick around court and need good reliable grip I am more than happy with your product and will certainly look to you for future needs"

loyd crome
, Ulladulla