Yonex VOLTRIC 50 E-tune is the racquet to allow 7 possible configurations combined with powerful TRI-VOLTAGE SYSTEM.
The powerful VOLTRIC TRI-VOLTAGE SYSTEM equipped with new linked grommets offers more power than ever before. Compared to the previous model, the VOLTRIC 50 E-tune cuts down on power loss to give players a 3% increase in power.
Furthermore, with the introduction of the new E-tune parts, the TRI-VOLTAGE SYSTEM has been taken to the next level.
Yonex VOLTRIC 50 E-tune Specifications
Frame Material:

H.M. Graphite, Sound Filter , Tungsten

Shaft Material:

H.M. Graphite

Flex:

Stiff

Weight:

85g +/- 2 (4U-G5)

Length:

675mm

Max Tension:

26 lbs

Balance:

Head Heavy Balance

Grommets:

76 holes

Colour:

Grey
*Made in Taiwan
Special Features
Isometric head frame
The square-shaped ISOMETRIC frame shape is designed to keep vertical strings at a similar length, as well as the horizontal strings to produce an expanded sweet spot in all directions.
Tri-Voltage System
Voltric is Power: The stiff racquet structure at the top of the frame allows the head to bend in a very controlled way and hold shuttles on the string bed for longer. The thin frame sides then allow the frame to flex more and transfer more energy to the shuttle. This combination allows you to smash with instant power.
Voltric is Agility: In VOLTRIC, the weight is balanced on the top of the frame and at the joint area which allows good handling while also maintaining power. The thin sides of the frame and at the top of the head reduce air resistance and improve the handling even further. Players can now make a full swing even during short range rallies as VOLTRIC responds instantly to even subtle movements.
Sound Filter
Another innovative YONEX technology, Sound Filter uses new materials at the two and ten o'clock positions to reduce only high pitched and dull soundwaves. This produces a louder and sharper sound on impact to unsettle opponents, and provides a more aggressive tone to your game for a relentlessly attacking style of play. Sound Filter also reduces uncomfortable sensation from the racquet by rapidly eliminating 31% of vibrations.
E-tune (Energy Tune)
Players can fully customize their level of power by distributing weight where they want using the extra components provided.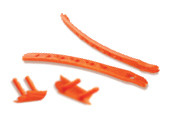 Power Boost Cap
The POWER BOOST CAP combines hard and soft materials to maximize the shaft's bending power without losing stability.
Aero + Box Frame
Combines solid hitting feel and quick swing.
Built-in TJoint
Moulded deep into the layers of graphite where the frame connects with the shaft, the YONEX Built-in T-Joint creates a durable and high-strength one-piece frame that is torque-free.
New Grommet Pattern
The single-pass grommet hole construction provides more grommet holes for a more high-performance stringing pattern.
Racket Specifications
Frame
H.M. Graphite, Sound Filter , Tungsten
Shaft
H.M. Graphite
Flex
Stiff
Weight
85g +/- 2 (4U-G5)
Max Tension
26 lbs
Length
675mm
Balance Point
Head Heavy Balance
Grommets
76
Shaft Diameter
7.2mm
Color
Grey
Special Features
Isometric head frame; Tri-Voltage System Aero+Box Frame Built-in T-Joint; New Grommet Pattern; Sound Filter; E-tune (Energy Tune); Power Boost Cap;
Customers Who Bought Also Bought
What People Are Saying...

Very good discount when buying more than one racket. Also delivery was very fast, rackets were strung to the tension needed correctly and the free grips provided are amazing. I will definitely be using badminton bay in the future and recommending this to all my friends and family."

Vishal Rana
, Birmingham, UK