Made in Japan Yonex VOLTRIC 80 E-Tune Badminton Racket offers more speed on offensive drives. More power on decisive smashes.
The powerful VOLTRIC TRI-VOLTAGE SYSTEM equipped with new linked grommets offers more power than ever before. Compared to the previous model, the VOLTRIC 80 E-tune cuts down on power loss to give players a 3% increase in power.
Furthermore, with the introduction of the new E-tune parts, the TRI-VOLTAGE SYSTEM has been taken to the next level.
Yonex VOLTRIC 80 E-tune Specifications
Frame Material:

H.M. Graphite,

NANOMETRIC, Tungsten
Shaft Material:

H.M. Graphite,

NANOPREME
Flex:

Stiff

Weight:

85g +/- 2 (4U-G5)

Length:

675mm

Max Tension:

26 lbs

Balance:

Head Heavy Balance

Grommets:

76 holes

Color:

Deep Red
*Made in Japan
Special Features
Isometric head frame
The square-shaped ISOMETRIC frame shape is designed to keep vertical strings at a similar length, as well as the horizontal strings to produce an expanded sweet spot in all directions.
Tri-Voltage System
Voltric is Power: The stiff racquet structure at the top of the frame allows the head to bend in a very controlled way and hold shuttles on the string bed for longer. The thin frame sides then allow the frame to flex more and transfer more energy to the shuttle. This combination allows you to smash with instant power.
Voltric is Agility: In VOLTRIC, the weight is balanced on the top of the frame and at the joint area which allows good handling while also maintaining power. The thin sides of the frame and at the top of the head reduce air resistance and improve the handling even further. Players can now make a full swing even during short range rallies as VOLTRIC responds instantly to even subtle movements.
Ultra Slim Long Shaft
The Thinnest Ever with More Power
Inserting NANOPREME into the racquet shaft ensures greater stability compared to conventional racquets. When bending and releasing two racquets under the same force, the Ultra Slim Long Shaft rebounds almost twice as far as a conventional racquet does in the same length of time (0.018 seconds). This equates to 10% greater stability compared with conventional racquets.
E-tune (Energy Tune)
Players can fully customize their level of power by distributing weight where they want using the extra components provided.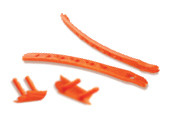 Control Support Cap
The control support cap provides an 88% wider flat surface compared with an ordinary racquet for easier gripping, fast follow-through and the sharpest maneuverability.
Aero + Box Frame
Combines solid hitting feel and quick swing.
Built-in T-Joint
Moulded deep into the layers of graphite where the frame connects with the shaft, the YONEX Built-in T-Joint creates a durable and high-strength one-piece frame that is torque-free.
New Grommet Pattern
The single-pass grommet hole construction provides more grommet holes for a more high-performance stringing pattern.
NANOPREME
NANOPREME™ is a new level in 'Nano-technology', operating on a scale of less than one billionth of a metre by using an epoxy resin to bind graphite fibres together. NANOPREME™ overcomes the limited qualities of carbon technology to provide stiffness, high resilience and high repulsion from a single racquet material for the very first time.
Comparison of physical properties:
NANOMETRIC
NANOMETRIC* improves the bonding strength between the carbon fibres enabling us to take racquet shaft construction to another level. By reducing the amount of carbon in the shaft to make it 60%* thinner than a conventional racquet whilst retaining stiffness, YONEX has created a revolutionary lightweight racquet with lightening head speed and control.
*NANOMETRIC is the new material which applies the NANOALLOYTM Technology of Toray Industries, Inc.
Racket Specifications
Frame
H.M. Graphite, NANOMETRIC, Tungsten
Shaft
H.M. Graphite, NANOPREME
Flex
Stiff
Weight
85g +/- 2 (4U-G5)
Max Tension
26 lbs
Length
675mm
Balance Point
Head Heavy Balance
Grommets
76
Shaft Diameter
6.78mm
Color
Deep Red
Special Features
Isometric head frame; Tri-Voltage System; Ultra Slim Long Shaft; E-tune (Energy Tune); Control Support Cap; Aero + Box Frame; Built-in TJoint; New Grommet Pattern; NANOPREME; NANOMETRIC;
Customers Who Bought Also Bought
What People Are Saying...
Li-Ning Ultra Str...

This racket are head heavy and feel just like 305mm BP, yet quiet light as it is 80g. The feel and response from the frame is very solid as for medium stiff racket. Very powerful racket and not sluggish as the shaft is 7.2mm. The best racket so far for an affordable price. The racket is genuine a
...READ MORE...»

AUGUSTINE
, MY