The Voltric FB Black Blue badminton racket is made in Japan. The lightweight racket (5U) is designed with a head-heavy construction that enables you to easily hit a power smash. This racket is constructed with slightly compact frame which provides fast swing and head-heavy balance. Great potential as an all-round as it's easy to maneuver due to its light weight.
Yonex Voltric FB SP Specifications
Frame Material:

H.M. Graphite, Tungsten/BLACK MICRO CORE

Shaft Material:

H.M. Graphite, NANOMETRIC

Flex:

Stiff

Weight:

80g +/- 2 (5U-G5)

Length:

673mm +/- 2

Max Tension:

24lbs

Balance:

Head Heavy Balance

Grommets:

76 holes

Color:

Black Blue
*Made in Japan
Special Features
Tri-Voltage System
Traditionally, extra weight at the top of the racquet frame has increased hitting power but reduced the speed of racquet handling. In contrast, a lighter top to the frame increases speed but causes a loss of hitting power.
For the first time, the new TRI-VOLTAGE SYSTEM successfully combines the contrasting characteristics of exceptional power and great handling. YONEX has developed a racquet which achieves the combination of heavy smashes and speedy racquet handling.
Voltric is Power: The stiff racquet structure at the top of the frame allows the head to bend in a very controlled way and hold shuttles on the string bed for longer. The thin frame sides then allow the frame to flex more and transfer more energy to the shuttle. This combination allows you to smash with instant power.
Voltric is Agility: In VOLTRIC, the weight is balanced on the top of the frame and at the joint area which allows good handling while also maintaining power. The thin sides of the frame and at the top of the head reduce air resistance and improve the handling even further. Players can now make a full swing even during short range rallies as VOLTRIC responds instantly to even subtle movements.
NANOMETRIC
NANOMETRIC* improves the bonding strength between the carbon fibres enabling us to take racquet shaft construction to another level. By reducing the amount of carbon in the shaft to make it 60%* thinner than a conventional racquet whilst retaining stiffness, YONEX has created a revolutionary lightweight racquet with lightening head speed and control.
*NANOMETRIC is the new material which applies the NANOALLOYTM Technology of Toray Industries, Inc.
Isometric
The square-shaped ISOMETRIC frame shape is designed to keep vertical strings at a similar length, as well as the horizontal strings to produce an expanded sweet spot in all directions.
Solid Feel Core
The built-in solid feel core cuts harmful miscellaneous vibration at impact. Solid feel core is carried in all racquets manufactured in Japan.
Aero + Box Frame
Combines solid hitting feel and quick swing
Built-in T-joint
Moulded deep into the layers of graphite where the frame connects with the shaft, the YONEX Built-in T-Joint creates a durable and high-strength one-piece frame that is torque-free.
Super Slim Frame
This thin frame provides greater head speed and a solid feel.
Control Support Cap
The control support cap provides an 88% wider flat surface compared with an ordinary racquet for easier gripping, fast follow-through and the sharpest maneuverability.
Black Micro Core
Used for the first time in Yonex badminton racquets, BLACK MICRO CORE is a stiff, high-density vibration-dampening material equipped into the upper part of the VOLTRIC FB frame letting players hit with solid feeling and power.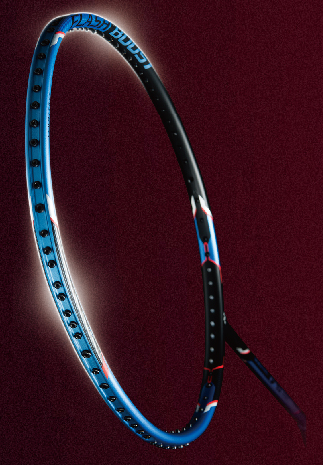 New Grommet Pattern
The single-pass grommet hole construction provides more grommet holes for a more high-performance stringing pattern.
Racket Specifications
Frame
H.M. Graphite, Tungsten/BLACK MICRO CORE
Shaft
H.M. Graphite, NANOMETRIC
Flex
Stiff
Weight
80g +/- 2 (5U-G5)
Max Tension
24 lbs
Length
673mm +/- 2
Balance Point
Head Heavy Balance
Grommets
76 holes
Shaft Diameter
7.18mm
Color
Black Blue
Special Features
Tri-Voltage System; NANOMETRIC; Isometric; Solid Feel Core; Aero + Box Frame; Built-in T-joint; Super Slim Frame; Control Support Cap; Black Micro Core; New Grommet Pattern
What People Are Saying...
My experience wit...

Hi guys, thank you for a great range an friendly prices on most of the brands. Great service and prompt delivery. I did have to splurge a bit extra to get free shipping but happy with the bag that I added on. Quality of stringing was great. Tracking facility second to none and courier delivered o
...READ MORE...»

Zoran
, Melbourne