Yonex DUORA 88 badminton racket is an all-round model equipped with the DUAL OPTIMUM SYSTEM to boost power on your forehand and distance on your backhand. Aerodynamic for speed. Strong FOREHAND smash. Fast BACKHAND drive. With DUORA's cutting-edge technology, command the court with every single shot. Easy identification of racket shape during play using unique color design.
Yonex DUORA 88 has similar racket frame design as the Yonex Duora 10 LCW and Yonex Duora 77 LCW.
Huge forehands. Quick backhands.The DUORA lets players do both with one revolutionary design.
"I feel like my arm is one with the racquet on both my forehand and backhand, so I can push faster at the net." -- Lee Chong Wei on Duora's cutting edge technology
Yonex DUORA 88 Specifications
Frame Material:

H.M. Graphite/NANOMETRIC β/SUPER HMG

Shaft Material:

H.M. Graphite

Flex:

Stiff

Weight:

88g +/- 3 (3U-G5)

Length:

675mm +/- 3

Max Tension:

26 lbs

Balance:

Even Balance

Grommets:

76 holes

Colour:

Yellow White & Blue

Shaft Diameter

7.0mm
*Made in Taiwan
Special Features
Isometric head frame
The square-shaped ISOMETRIC frame shape is designed to keep vertical strings at a similar length, as well as the horizontal strings to produce an expanded sweet spot in all directions.
Dual Optimum System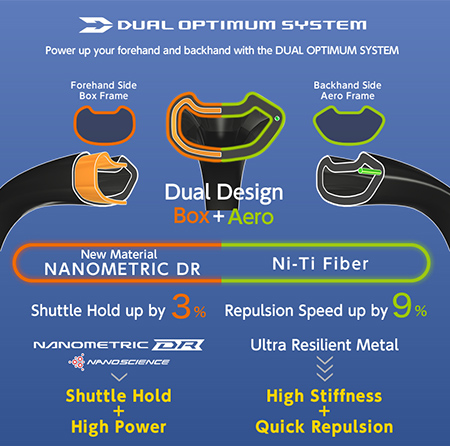 NANOMETRIC β
Grounded in NANOSCIENCE, this material binds carbon fibres tightly together one-by-one without any gaps, for enhanced strength.
New Grommet Pattern
The single-pass grommet hole construction provides more grommet holes for a more high-performance stringing pattern.
Aero + Box Frame
Combines solid hitting feel and quick swing.
New Built-in TJoint
Moulded deep into the layers of graphite where the frame connects with the shaft, the YONEX Built-in T-Joint creates a durable and high-strength one-piece frame that is torque-free.
Control Support Cap
The control support cap provides an 88% wider flat surface compared with an ordinary racquet for easier gripping, fast follow-through and the sharpest maneuverability.
Racket Specifications
Frame
H.M. Graphite/NANOMETRIC β/SUPER HMG
Shaft
H.M. Graphite
Flex
Stiff
Weight
88g +/- 3 (3U-G5)
Max Tension
26 lbs
Length
675mm +/- 3
Balance Point
Even Balance
Grommets
76
Shaft Diameter
7.0mm
Color
Yellow White & Blue
Special Features
Isometric Head Frame; Dual Optimum System; NANOMETRIC; New Grommet Pattern; Aero+Box Frame; New Built-In T-Joint; Control Cap Support
Customers Who Bought Also Bought
What People Are Saying...
Yonex Voltric 10D...

I'm extremely satisfied with the perchase. Great customer service and fast shipping. It is hard to find a place to buy Yonex DG rackets here in Chicago. About the racket, overall it is great. Even though it says 3U ( 85-89 g), with the grip, the racket weigh at 94.5 g, wich is technically 2
...READ MORE...»

Pathum Weerawarna
, US