Brand:
Abroz
Product Code:
PU210
Availability:
In Stock
Available Product Promotions
Christmas Sale 10% Discount
Abroz's Super PU Grip PU210 - use as Replacement Grip for Badminton, Squash or Tennis Racket.
Soft Touch
Very tacky, tackiness lasts longer than normal grip
Non Slip
Super Absorbent
Nullifies Vibration
Self Adhesive
Finishing tape at the end holds grip neatly and firmly in place.
Material: Polyurethane (PU)
Width: 25mm
Length: 1100mm
Thick: 1.8mm
Quantity: 6 pieces (AZ-PU210)
Color may not be as shown in picture as they are based on current stock: Mix of rainbow colors in blue, green, white, orange and yellow base.
Customers Who Bought Also Bought
What People Are Saying...
Great service and...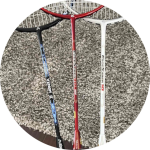 ​
I stumbled across badmintonbay.com by chance as I was looking to get another APACS EdgeSabre 10. Can't be happier I found T ...READ MORE...»

KELVIN L
, CALIFORNIA, USA